DIY: Recycled Sensory Game
Some links below are my affiliate links, meaning, at no additional cost to you, I may earn a very small commission if you click through and make a purchase. Please know that I only recommend products and services I have used myself or believe in from using with children and families I have worked with in the past.
Having a little one sick is tough. It's so hard to see them in pain and feeling helpless. A couple of weeks ago now, at the beginning of the week, Robby became miserable at night. Going down wasn't much of a problem, but within a few hours he would be up crying and would continue throughout the night. He was up ALL night to the point it felt like I had a newborn once again. At first I thought it was teething along with his cold/slight cough, come to find out by Wednesday night he had drainage from his ears where he had tubes. He'd had a cough for a couple of weeks and I think our holiday travel to see family did him in.
My husband was out of town all week for work, so come Friday I was just spent. Olivia loves when I come up with activities, but I had nothing planned. I looked at the empty containers I had set aside earlier in the month and came up with this super easy DIY game that is so much fun. You place about 5 or more different textured items into a large container (we used a coffee bean one from TJ's) and your child has to guess the item before revealing if they guessed correctly.
Olivia loves this game. We actually introduced it to her close to a year ago and just put items into her small backpack, keeping it closed so she wouldn't peak. She requested to do it over and over again and I was impressed with how well she was at guessing correctly!
SUPPLIES
A large recycled tin container, large enough that your child can reach into. I prefer one that also has a plastic lid.

Washable paints (We have these Crayola ones)

Felt - I used about 1/4 of a standard piece for each color (I used two colors).

Glue gun. I have this one by ArtMinds.

Scissors
STEPS
Child paints container + you get to join in or work/clean/cook/play/do nothing.

Cut a large hole into the lid. I liked the idea of not gluing the felt directly onto the top. That way if anything got stuck together (maybe magnetic toys or items tossed by the wild younger brother that shouldn't be in there), I still had the option of easily removing the lid to retrieve it.

Trace circled lid onto the felt. I used two pieces because I thought it would help block the view into the container once the slits were made. It kind of worked...I think older kids would definitely be able to see into it, but Olivia is 3 and very eager to play along so she really didn't "cheat."

Cut out circled felt pieces.

Fold each piece in half, cut to make a slit. Refold and make a few more slits at different angles.

Use a hot glue gun to adhere each piece to the lid.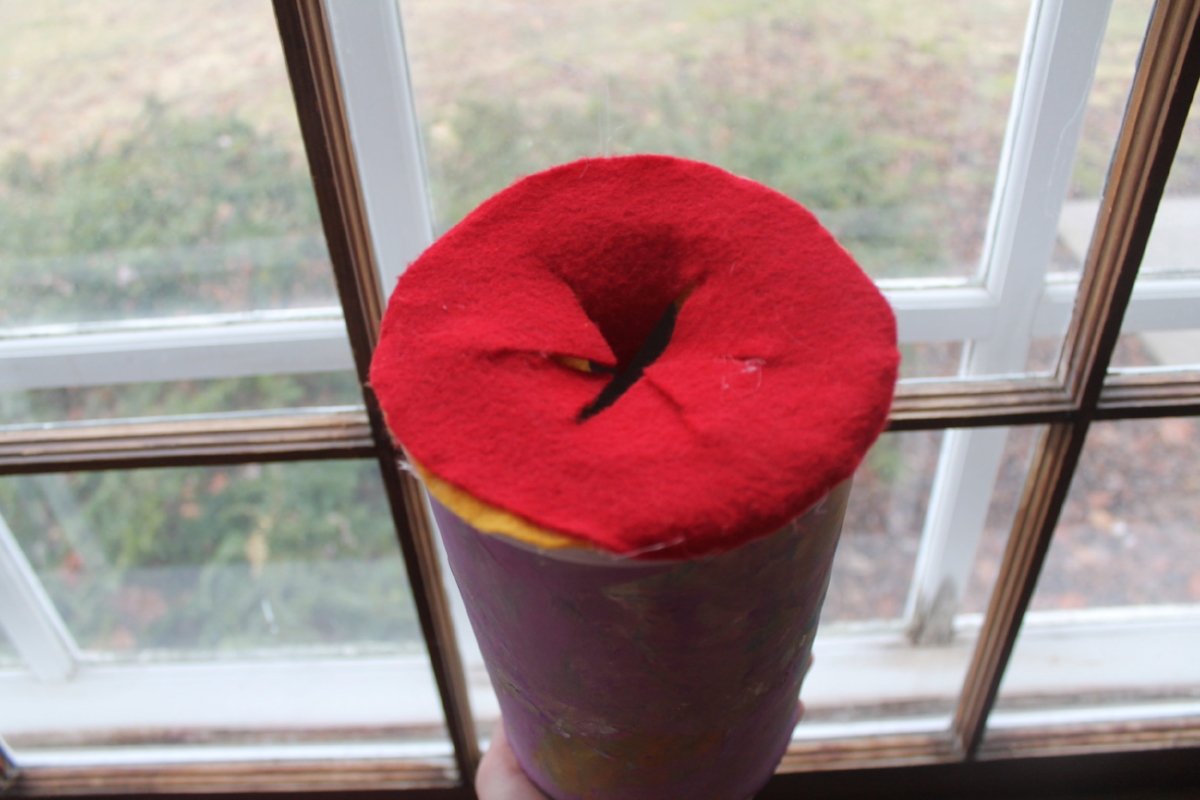 PLAY
In one of her new human body books, "Inside your Outside: All About the Human Body" by Dr. Seuss, it talks about the 5 senses and I know that now she has an increased awareness of them. This is fun and educational book for the 5-8 year old range, but at 3, Olivia is definitely taking away things from it. She asks me to read it to her consistently since we got it a month ago.
So before I reminded her of the game and what we were going to do in the activity, I demonstrated and named sense of "smell" and asked her if she remembered what any of the other senses are. She said "lick" and then demonstrated licking with her tongue. I praised her and said, "yes, taste is another one!"
I then asked her to go into the kitchen while I quickly grabbed a few items to sneak into the container. She loved this part alone, the anticipatory joy and excitement building. I love doing these types of activities with her because even though I might take a couple of quick photos or video clips, we continue to play after the phone is put down and I feel engaged and present as a Mom. It's a special mommy and daughter play time while my younger son is chasing balls around the room or napping. And I know Olivia loves these little play sessions too because she often asks to do an "activity" and sometimes is able to recall at bedtime that it was a favorite part of her day. Side note, when she initiates this conversation at bedtime, it comes out as "what's your favorite part about." It's precious and my heart is full.
>> Sharing is Caring <<