Testimonials
"
September 2019
My boys definitely learned some of Dawn's techniques! I went yesterday to get my flu shot and they told me to pretend I had my favorite pie in one hand and blow out 4 pretend candles on the other.
Ashley / Parent volunteer of a Teddy Bear Clinic in the classroom
"
JULY 2019
My 1 year old son and I worked with Dawn when he needed to go in for a blood draw. She was absolutely amazing and so calming! She prepped us beforehand and had me ask our pediatrician for a special numbing cream (that I never would have known about!), made recommendations about what he should wear so the tourniquet wouldn't scare him, and gave us tips on what to bring.
I provide medical education and preparation to not just kids, but also parents and siblings. Then if interested, I may be able to provide support (education, distraction, emotional) during the actual medical procedure.
- Dawn
Once at the hospital, Dawn helped us (and a few others in the waiting room!) with distractions for the 20 minutes we had to wait. Then, once my son was called in, she came with us and eased everyone's anxiety by pulling out all sorts of ideas that I would have never even thought of! My son didn't even feel the needle going in (or out and in the other arm...they couldn't get the vein for at least 10 minutes). I was nervous and sweating and trying to hold/comfort my son but he was a champ and it was all thanks to Dawn!
I cannot say enough good things about her practice. She truly cares about the medical experiences kids have and you can tell that her work gives her great joy.
Sarah / Read it on Facebook and find more resources and press
"
July 2019
Dawn came over and prepped my boys for their upcoming fillings. She had tons of medical play that helped them know what to expect when they went in. She then came with my youngest boy as I was most worried about how he would act. She sat next to him, had toys that he was excited for, and reassured him the whole time. I cannot say enough about how helpful she was! My middle child can be feisty, wild, and overall a headache with stuff like this and he was an ANGEL. 10/10 highly recommend!
Caitlin / More reviews on Facebook
I meet kids where they are at, both emotionally and developmentally, to best foster their understanding and positive coping with medical experiences. For children, these in-home sessions will always incorporate play. I also use language and share coping techniques tailored for them. I clarify misconceptions. And I listen to your fears and concerns, too, and work together to support you all.
- Dawn
"
May 2018
Dawn helped my son through his surgery. She helped prepare him prior to, by answering his questions and fears in ways a child would understand. She came to the hospital with us to comfort him and play games and also easy my worries! Dawn is amazing and I would highly recommend her to anyone!
Rachel / More Reviews on Facebook
A goal of mine is to provide services to your child and family that empower you to get through difficult challenges with or without my presence the day of a scheduled procedure or surgery. When I can be a part of a child's journey over time and on the day of a potentially distressing experience, greater trust has been developed and the whole family benefits from having that consistent voice that is there to advocate, educate, distract, reassure, and support you.
- Dawn
Looking for help to make doctor visits and procedures less scary or traumatic for your child? Would you like children in your community to learn coping strategies and make more positive associations with medical providers, equipment and encounters? I can help! Learn more about the services I offer here.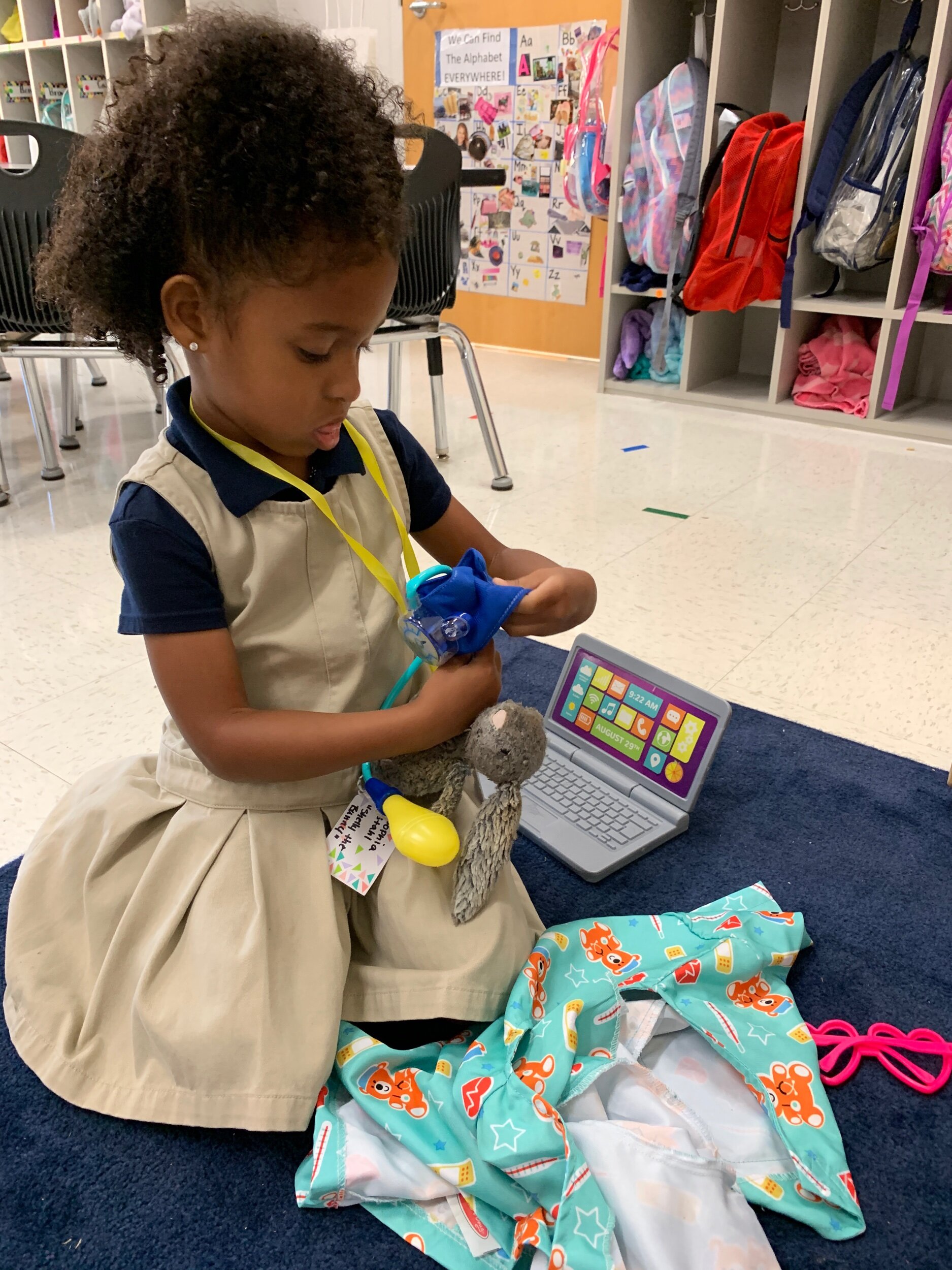 I am passionate about teaching children as young as possible about what to expect during medical experiences, along with coping strategies that can help them get through them. We know as adults, that coping strategies are needed all throughout life and not just for medical related situations that can elicit fear and anxiety. Teaching these skills in another safe space like the classroom helps kids to practice and master them so they are ready to effectively use them when needed under stress. Learning through play has many benefits, so allowing kids to be "doctor for a day" is a perfect fit for pre-k and school-age children in the classroom setting.
- Dawn